Murphy & Bailey: Creating A Physical Presence
If you're from around Belfast and have a pet then you've probably heard of, if not already been, to Murphy & Bailey's. If you're not familiar, they are a pet concept store based on the Belmont Road in East Belfast and the brand was named after the owner's two dogs. They sell gifts for cats, dogs and the people that love them - something for everyone!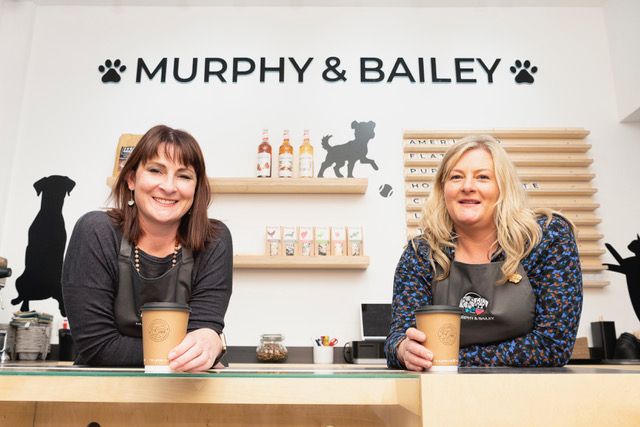 Murphy & Bailey started when Karen Breene and Judith Scott met while walking their dogs in Belmont Park and both had the burning desire to escape the 9-5 job to work on something they both felt passionate about. The brand started two years ago with a small online store and occasionally set up a stall at markets such as Waggy Races and Pooch Socials, two popular local Northern Irish events for pet lovers. This allowed Karen and Judith to get an idea if there was a market for pet themed gifts and quality brands that weren't particularly known in Northern Ireland.
With Murphy & Bailey becoming a well known shop in Northern Ireland as a pet haven, we thought we'd ask a bit about their journey from being online to having their physical presence.
From Selling Online to a Shop
As much as we enjoyed doing the markets and the website, we certainly weren't going to be able to sustain incomes that way. We travelled to New York and across to London and the Midlands to visit dog-friendly shops and cafes, and started to develop the concept of Murphy & Bailey as a destination.  We wanted to customers to be able to see and feel the quality of the products we stocked and also to be able to "fit' their dogs by being able to bring them in and try collars, harnesses or coats and jumpers for size . To enhance the experience they would also be able to grab a coffee or cookie to go, so treats for themselves as well as the dogs . We then just had to find the right premises.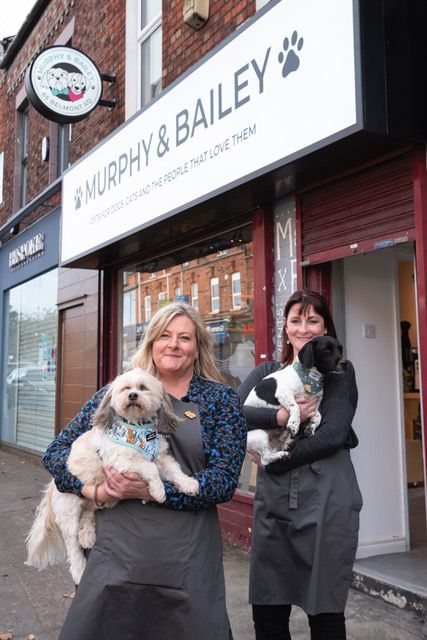 What challenges did you face?
Our biggest challenge was finding the right space and then tweaking our original business plans to suit COVID.  We originally had planned for a sit-down cafe, but with our lack of experience in running a food business, the health & safety aspect of having dogs on the premises, and the space we would have required for social distancing etc. it began to look like we would need somewhere much bigger than we had budgeted for. Additionally, it ruled out a number of key locations we had been looking at with great footfall but smaller premises.  
We ended up focusing much more on the pet / gift store aspect with the addition of a small outdoor seating area (post-lockdown) and just a "to go" food and drinks proposition. This has worked really well for us with the multiple lockdowns we have encountered since we opened, as we have regular customers who pop in for takeaway coffee when out on their dog walks and pick up some dog treats or dog food at the same time!
What Northern Irish brands can be found at Murphy & Bailey?
We currently stock a large number of Northern Irish brands:
Collars and leads by Hiker Hounds , made from climbing rope and named after local forests and beaches. We also are the only instore stockists of their canvas Belfast and North Coast canvas collars.
Mud Ireland make our treat jars and dog / cat bowls, and we also stock their matching mugs so that you can have a co-ordinating kitchen .
We have some lovely wooden postcards and dog tags from Dribbley Yak, who also made us our own Christmas decorations this year.
Bee Haven Bodycare provide us with shampoo bars and paw balm made from local beeswax.
We also have our own range of candles and wax melts (in nice strong scents to keep a boot room or kitchen smelling sweet and not of damp dog!). As well, we have our own NI themed bandanas, bow-ties and Tote bags (Harland & Woof, Giants Pawsway, TerrierTanic and Ulster Fry) and of course the Irish sheepskin bed range suitable for both dogs and cats!
Finally nearly all our food and treats are provided by local companies - Barkin Bistro & Barkin Bites in Kilrea, Naturo and Norsh from Mackles in Dungannon, and Salmon Oil, Marrowbones and Liver cake from Taggarts in Ballymena, we also stock meaty flavoured Irish CBD Oil from Cannabears in Lisburn.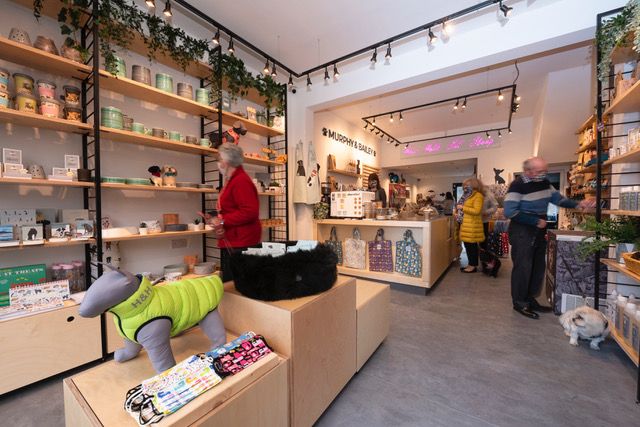 Advice for opening a shop
Do your sums, check your footfall, and talk to lots of people who have done what you want to do! We spent two years after starting to visit premises, talk to coffee shop and gift shop owners, getting business advice from people with a lot more experience in retail than we had. It was invaluable when it came to the business planning, as we could be realistic on volumes etc. and implement the advice we had been given around location and expectations. Selling at markets allowed us to get customer feedback as to what people wanted to see on the shelves in the shop, and more importantly, what they would be willing to spend for the right product.
What is the future for Murphy & Bailey?
Now that would be telling! It is still early days, we have only been open for three months and we've had Christmas and COVID to deal with - however we are always having ideas and looking for opportunities, so we could pop up in a few other places who knows! We definitely will be continuing to work on some of our own product lines, and we look forward to getting our outdoor area open, and perhaps even running some events in the future .
Outro
We have a great social media following - on Facebook you can find us by searching for Murphy & Bailey (@MurphyandBailey), and on Instagram it's @murphyandbaileybelfast.
We do a regular Customer Sunday snaps feature as well as sharing all the visiting dogs on our Instastories - so if you love seeing cute dog pictures, then you need to go follow us!
From us here at Made in Northern Ireland, we think it's great to see a brand starting out on their exciting journey during unknown times and trusting in the process to show them the way of creating what is a successful local brand.
Thanks to Karen and Judith taking the time to talk with us. Hopefully we'll hear plenty more from them in the future. Drop them a follow on social media to keep up to date or even pay them a visit to see their stunning shop!
Want to know more about another maker? Get in touch with us and let us know who, and we'll ask them the questions you want to hear! Drop us a message on Instagram, Facebook or email us: hello@madeinnorthernireland.co.uk
Catch up with Murphy & Bailey on social media:
Instagram @murphyandbaileybelfast
Facebook @murphyandbailey