Getting Found Online - Google My Business
A short while ago Niamh Boyle from Digital 24 gave a seminar on 'Getting Found Online' which was part of a series by CraftNI. The series of seminars happened during lockdown to help makers be found during times when craft fairs and markets were at a stand still.
I have curated the information from the seminar in the hope that it will help you with your business to provide some guidance on getting recognised. In this blog we're talking about Google My Business.
Google My Business
Google My Business allows you to have a listing on Google search when people Google your business name. It'll show on the right side with contact details, photos, reviews and other information specific to your business.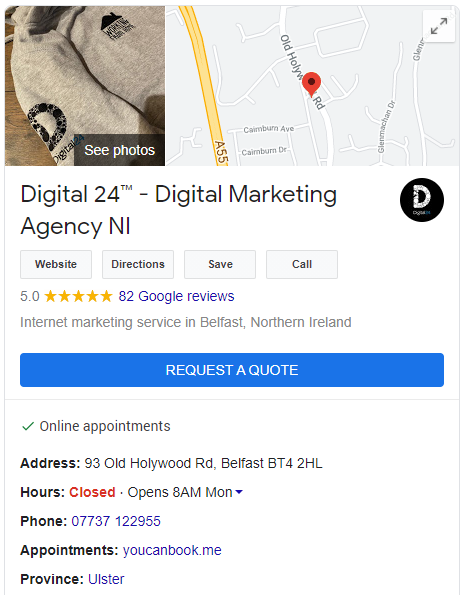 Google My Business is important as it helps with being found on Google. There are many settings which you're able to change once you have registered and verified your business on Google. Changing these settings will help to set your business up for success.
First, check if your business already has a listing like the one above by Googling your businesses name. If you already have one then you can just make changes to it and update the information.
Why use Google My Business?
- Free business listing service
- Produce local map results
- Keep business information up to date easily
- Monitor and reply to reviews
- Get statistics and insights, eg. click to call, directions etc
- Post latest news, products and events about your business
- Ability to create a FREE website
- Download the app to your phone for easy management and help
How to get started?
First head over to http://business.google.com/ where you'll be able to log in with a Google/Gmail account to register your business - click on the Manage Now button to get started.
After you've logged in you will be able to create your business. From there you can add all the information required for your business. Make sure to add as much as possible to get the most benefit.  Below Niamh talks about setting categories and a description for your business.
Setting categories
You're able to set categories for your business on your Google My Business listing settings. Niamh suggests that you take advantage of this by listing as many relevant categories as possible. The keywords in the categories are important as they help you to be found online when people search Google.
For example she has the following for her digital agency: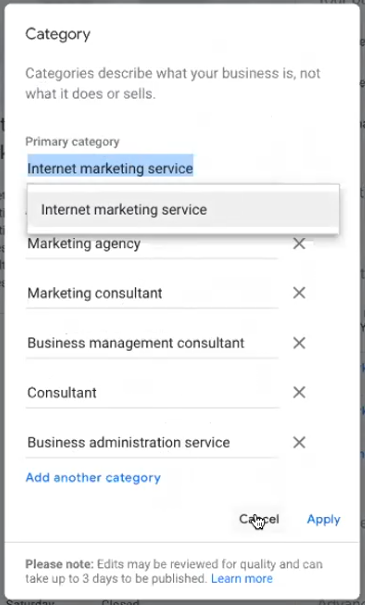 Business Description
Another important field in your business listing to help being found is the brief description about your business. You're able to type up to 750 characters giving a brief description of what your business does.
As an example, here is Niamh's: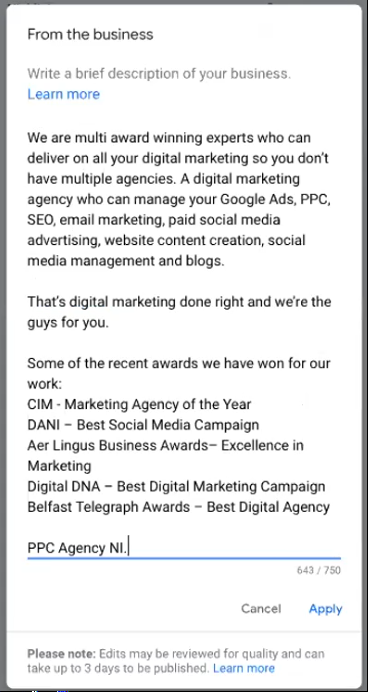 Completing your listing
If you want to get the most out of your Google My Business listing then I'd suggest checking out the following tutorial to make sure you touch all bases (or you could Google for a guide, just make sure it's recent): searchenginejournal.com
Questions?
If you are confused, clueless, need some advice/help or have a question then contact us and we'll do our best to help you. You can email us (hello@madeinnorthernireland.co.uk), message us on social media or even send a carrier pigeon.
We'll be following this blog post up with other snippets from the seminar which we hope will provide great value to you.